An N scale empire in a typical room


John called to ask for help designing a two-level, N scale, point-to-point layout based on features around Toronto, Ontario. He sent a general design concept with two images taken from magazines that had features he wanted to incorporate. He knew he was trying to pack a lot of action into a small space but didn't quite know how.


He asked what it would cost for me to design his layout. It was still very nebulous, so I told John it could be anywhere from $1000 to $3000, depending on how much we had to experiment to find the magic combination.


John took it in stride and made a down payment. At the time, I was working on Is This Possible? and sent John a PDF of Bob's pencil drawing. The next day, he told me he would get back to me in a few days. He understood the concept of "Is This Possible?"


Draw your dream railroad with a pencil and eraser. Keep the radii and turnout angles reasonable. Here is the most important part: visualize your layout. Only you know what you will enjoy watching and operating. Only you can make the trade-offs necessary when squeezing a prototype into a room. Put it to paper, this best way to communicate your vision to a designer.


Download
Buy Now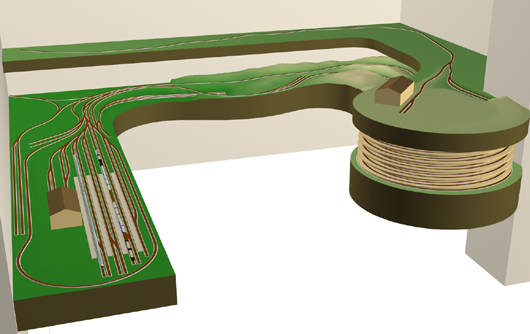 Some people buy 3rd PlanIt and use it to draw and visualize their layout. If you don't want to learn a CAD program, El Dorado Software Design Services can provide you a plan that is ready to build at any level of detail you choose.


You'll work with Randy Pfeiffer, who writes 3rd PlanIt. He has designed and built layouts for many clients with a wide variety of scales and eras. He uses the program quickly and efficiently, making complex designs in short order. This design took 7 days to complete, almost to the hour. John and I enjoyed that thought when we noticed during a phone call at the end of the design.


Do you recall John wanted a point-to-point layout? Look at the reversing loops around Toronto on the lower-left and the helix on the lower right. John realized at the last minute he wanted "sit back and watch trains run" capability but didn't have it. The reversing loops let him enjoy art in motion. The change added very little time to the design cycle. Design time is charged by the hour, so you are free to have whatever you want. Everyone's goals become more clear as a plan evolves. We work with you to create the best possible version of your dream layout.


Whether you buy 3rd PlanIt to design your own layout or use our Design Services to have a quality plan in short order, you will have the pleasure of building a railroad you know will run reliably year after year.
Download
Buy Now
Call us! 916-382-9035
9am-4pm Pacific Time