Welcome to TrackPlanning.com, your primary source of in-depth information on Model Railroad Track Planning and home of 3rd PlanIt. We hope you find this site a convenient reference, and encourage you to visit regularly to enjoy new content!
3rd PlanIt v10 Demo Order v10 Now - Click here

Version 10 Introduces Powerful New Features
Find new design freedom and develop better track plans with 3rd PlanIt's great new features. For a detailed reivew of the new features, please download this document.
SoftTrak: Model Railroad Design will never be the same!
SoftTrak automatically works out the details of trackwork in complete accordance with AREA and European prototype design standards based on simple spline-like definitions. Just a few points can lay out track of any complexity - in minutes, not hours.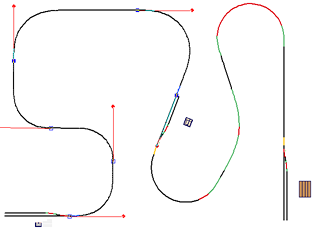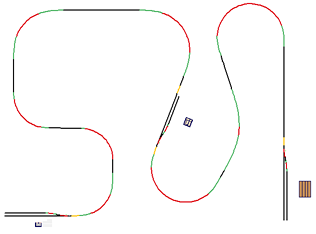 Read about SoftTrak's powerful new features in this document.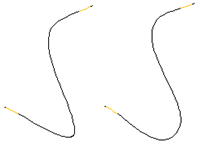 Splines: Cubic, Rounded, Minimal Acceleration (MA)
In addition to the traditional CAD workhorse, the cubic spline, you may select a rounded spline for curves more appropriate to railroads.
There are also new Minimal Acceleration splines, which can be straightened to adjust their curvature.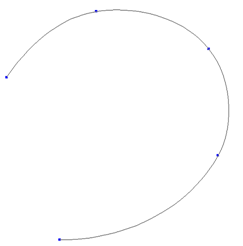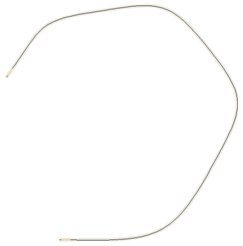 SoftTrak Easements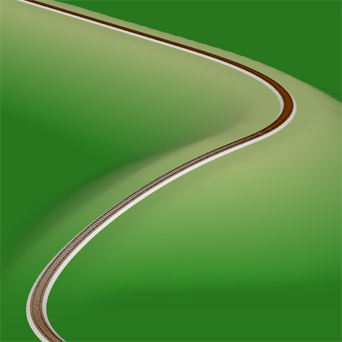 These wonderful transition tracks are built on equations developed specifically for CAD software: the quintic spline. These special objects can have curvature assigned to each end. They gradually transition curvature from one end of the curve to the other - in all three dimensions!
In the example at the right, you can see a SoftTrak Easement directly connecting two curves. Both curves are flat; the back curve is higher than the front. ST Easements make smooth transitions from flat to grade and back again, while transitioning curvature from left to right. You'll be able to create designs more complex and satisfying than ever before!
Holes in Meshes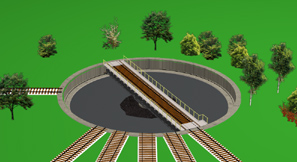 Have you ever wanted a turntable in your mesh? Or an operator's cutout? Now, you can create meshes with one or more holes in them. It even makes designing a vintage passenger car with all its windows an easy task.
Simply draw a contour line as the boundary of the mesh. Then draw one or more contour lines inside the first, so that none overlap. Issue the command Mesh / Create Mesh to make the mesh.
Now's a great time to join the modern world of CAD-based model railroad design!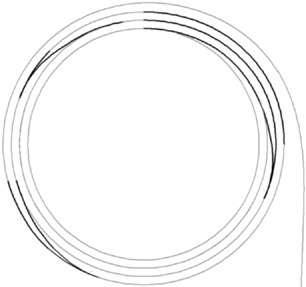 Your imagination is your only limit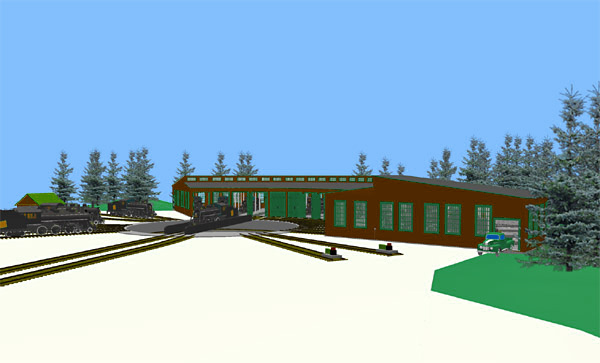 This web site is brought to you by El Dorado Software, supplier of precision track planning and layout design software for model railroading hobbyists. Our latest offering of 3rd PlanIt™ for Windows is available for Internet delivery or shipment. With a broad set of features and powerful automation, model railroad planning has never been easier or faster.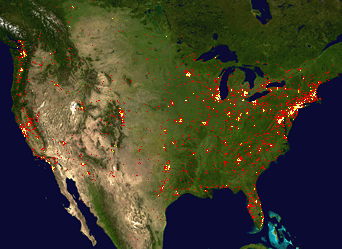 There has never been a CAD system that offers so many first-quality features specifically designed for the model railroader. From track planning and layout design, to building construction and fabrication, to beautiful terrain rendered at high speed, 3rd PlanIt offers you a complete line of features that will meet the needs of the most demanding hobbyist. Take a few minutes to view this 31Mb AVI movie of the beautiful roundhouse built from scratch in 3rd PlanIt by Gerry Baldwin.
3rd PlanIt: refined and improved over 15 years... used in thousands of applications around the world... your very best choice for track planning software! Is one of your neighbors using 3rd PlanIt? This map shows locations of 3rd PlanIt user across the country.
Great product btw... have used it to plan and build at least seven layouts for my custom layout building service. HO scale, O scale, and even a football field sized G scale layout. The 3D feature is a real "seller" when clients are looking at my ideas.

Regards,


Dave MacLean
I've mentioned your program and shown my layout drawings to my local hobby shop and they were impressed. Being a retired draftsman, I KNOW a good program when I see one and 3rd PlanIt is the best of the bunch hands down!
Best regards,
Gord Schneider
Mississauga, Ontario
Track Planning for Model Railroads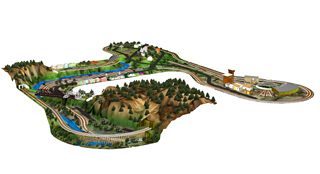 If you are about to build or design a model railroad, you will find yourself facing a number of decisions. You need to choose a theme that reflects your interests and experience, decide on the primary goals for your layout, design the layout, and refine the plan. The buildings and landscape are integral to a great track plan, and you may even want to scratchbuild a building or two to really personalize the layout. Sooner or later, when you've arrived at a track plan that meets your needs, you can take hammer to nail and construct your dream layout.

The process of Track Planning is where you experiment with ideas, negotiate for space, find the ideal compromises for your setting, and establish the operating characteristics of your layout. Browse our Layout page for a collection of other designs by hobbyists to help inspire you, or refer to the Design page for detailed concepts to help with design problems you may encounter. And, of course, find out more about 3rd PlanIt, including AVI animations to demonstrate its features for you!
About El Dorado Software
El Dorado Software is dedicated to bringing state-of-the-art software technologies to the Model Railroading hobby. We believe that today's hobbyist seeks to use the computer as a tool to bring pleasure, productivity and accuracy into their pastime. We also believe that feedback from our customers provides the most valuable understanding of your needs, and incorporate your input into our evolving products.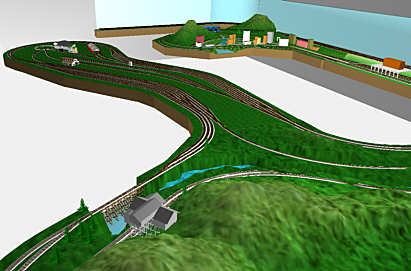 El Dorado Software's first consumer product, 3rd PlanIt™, provides the foundation of our retail product line. 3rd PlanIt offers the model railroad hobbyist the precision of CAD layout in an easy-to-use program, using the power of the computer to accomplish the difficult tasks of alignment, placement and trimming. Automated functions create multiple parallel objects with one mouse movement, connect circles to lines with spiral easements while trimming them to meet end-to-end, and find paths through long and complex trackwork for setting elevations and viewing in profile. Trackwork can be customized for standard or normal gauge, and you can even define the size and spacing of railroad ties. A demonstration version is available for download.
Contact Information
El Dorado Software is in the Pacific Time Zone of the United States. Our hours are 8am to 5pm Pacific Time, and you can also reach us by e-mail. On-line ordering is available here.
Telephone

1-916-382-9035

Electronic mail

General Information: 3pi@TrackPlanning.com

You are visitor to this site since November 1, 1997